To afraid to open your closet door because of the mess?
Need a Space Saving solution?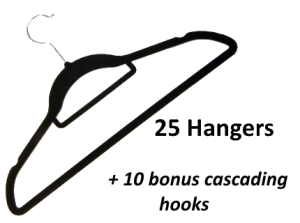 Yes my closet was a mess, I was tired of fighting my way through the clutter both on the hangers and on the floor! Too many clothes and not enough space to hang them in, different sized and styles of hangers my wardrobe looked just plain ugly.
I wanted an elegant yet still very practical solution, were I would be happy to venture into my wardrobe with the same level of calm that I had in my bedroom, instead of being stressed, cringing and tripping over the mess on the floor.
So I went on a hunt. I didn't want to purchase different styles of hangers to use for different types of clothes and they needed to be thin, functional, lightweight but strong and look good. I wanted a one hanger solution, not the hassel of trying to find different hangers to hang different types of clothing and I found it!
Introducing the Amanda Maree Homeware Black Velvet Like Slim Line Hangers with multi benefits including –
25 Space Saving, soft grip, black velvet like hangers that provides a classy elegant look to your wardrobe and double the amount that you can hang in your wardrobe compared to wooden hangers. Plus having our swivel hooks it doesn't matter which way you place your clothes, a twist hanging and all the hooks will be uniform on the rail.
10 Bonus Cascading Hooks that will save you even more space – go vertical with shirts and blouses, a real bonus when closet space is limited in smaller flats or bedrooms.
Tie/Scarf Bar to neatly organize scarfs and ties, match them to your outfits, easy to see them all in one place.
Larger size suitable for suits, 17.8″ width, 9″height, this is a 1 hanger solution for all types of clothing. Don't worry about picking up the wrong hanger for the wrong garment, these do the job!
Trouser Bar great for trousers and jeans, this also helps with the strength of the hangers
Notches for Straps and Loops  and with our velvet like flocked non reflective finish the straps stay on the hangers and wont fall off when adding other garments to your wardrobe rail.
Don't let your messy closet irritate you anymore –  our  hangers are designed to save space  and your sanity!Try our Amanda Maree Homeware™ Soft Grip Hangers out immediately. Grab that suit… or that pair of jeans… or that t-shirt – and hang them in the closet. You'll notice that our hangers do not sag easily. That's because they're built to last… and can weather a thing or two.You're also getting 10 cascading hooks. That will help you save even more space… so even the tightest closet will suddenly seem spacious enough. So here's what we'd like you to do. Swap out a few of your old hangers. Use the tie/scarf hole in our Soft Grip Hangers to arrange your ties and scarves. Doesn't your closet immediately look better? Imagine the results after you've used the whole 25 of our hangers.
Thanks for your time, we appreciate it.
Amanda Maree